Got a question?
We've put together answers to the questions we get asked most often at The Farmer's Hen.
Why do The Farmer's Hen eggs taste so good?
Our eggs taste so good because they come from hens that are always free to roam, are fed a plant-based, nutrient rich diet and they're never given antibiotics or hormones. You can taste all that natural goodness, fresh air and sunshine in every one of our eggs.
What is the difference between cage-free, free-range and pasture raised eggs?
We know it can be confusing, so here's the "skinny." First, "Cage-free" hens aren't free. They have no access to outdoor spaces and don't see an open sky. That's why at The Farmer's Hen, all our hens are free-range or pasture raised. Free-range hens have daily access to the outdoors and each hen has a minimum of 2 square-feet all to themselves. Hens on our Pasture-Raised farms are also given daily access to the rotated pastures, but with larger green space meaning that each hen has an area larger than 10'x10' all to themselves to roam in.
What makes The Farmer's Hen organic eggs organic?
We love our hens and their health and wellbeing is at the center of everything we do. While all our hens are free from antibiotics and hormones, the hens in our organic flock enjoy a feed that is itself USDA certified organic, which means they are free from GMOs and pesticides.
Why are some eggs white, some brown and other multicolored?
White eggs, brown eggs, and even multicolored eggs can be found at grocery stores across the country. While there are several "myths" about why some eggs are white and some are brown, the truth is that egg shell color is determined by the genetics of the hens, and so different breeds of hens lay different colored egg shells.
Why are there different egg sizes?
A hen's age is the factor that has the greatest influence on egg size. As a hen gets older, she lays larger eggs. We do our best to grade our eggs so you get the same size eggs in each carton, but because our eggs are natural and we aren't a factory farm, occasionally you might get some variation in egg size in the same carton.
Does The Farmer's Hen wash the eggs before they're sold?
Yes, the USDA requires us to wash our eggs using soap and defoamer to clean the egg, we then rinse our eggs with fresh water, dry them, and pack them. We also use UV light to sanitize the shells to eliminate potentially harmful bacteria and viruses.
What steps does The Farmer's Hen take to prevent Salmonella?
The Farmer's Hen vaccinates all our hens against salmonella. They are also tested to meet FDA requirements.
Are The Farmer's Hen eggs gluten-free?
Yes, The Farmer's Hens eggs are naturally gluten-free!
Are The Farmer's Hen eggs pasteurized?
No, our eggs are never pasteurized. Sometime people confuse Pasture Raised, which is related to the outdoor space that our hens enjoy, with pasteurized, which is applying heat to cook eggs. Clearly, these are not the same.
Are The Farmer's Hen eggs Kosher?
Are The Farmer's Hen eggs Non-GMO?
Customers looking to avoid GMOs can be assured that The Farmer's Hen eggs meet the standards defined by the Non-GMO Project and we're proud to wear their badge. The Non-GMO Project is a mission-driven nonprofit organization that provides third-party non-GMO verification, to help promote a non-GMO food supply. A Non-GMO Project seal is the only highly meaningful label for customers looking to avoid GMO. At The Farmer's Hen, we're proud to wear their badge.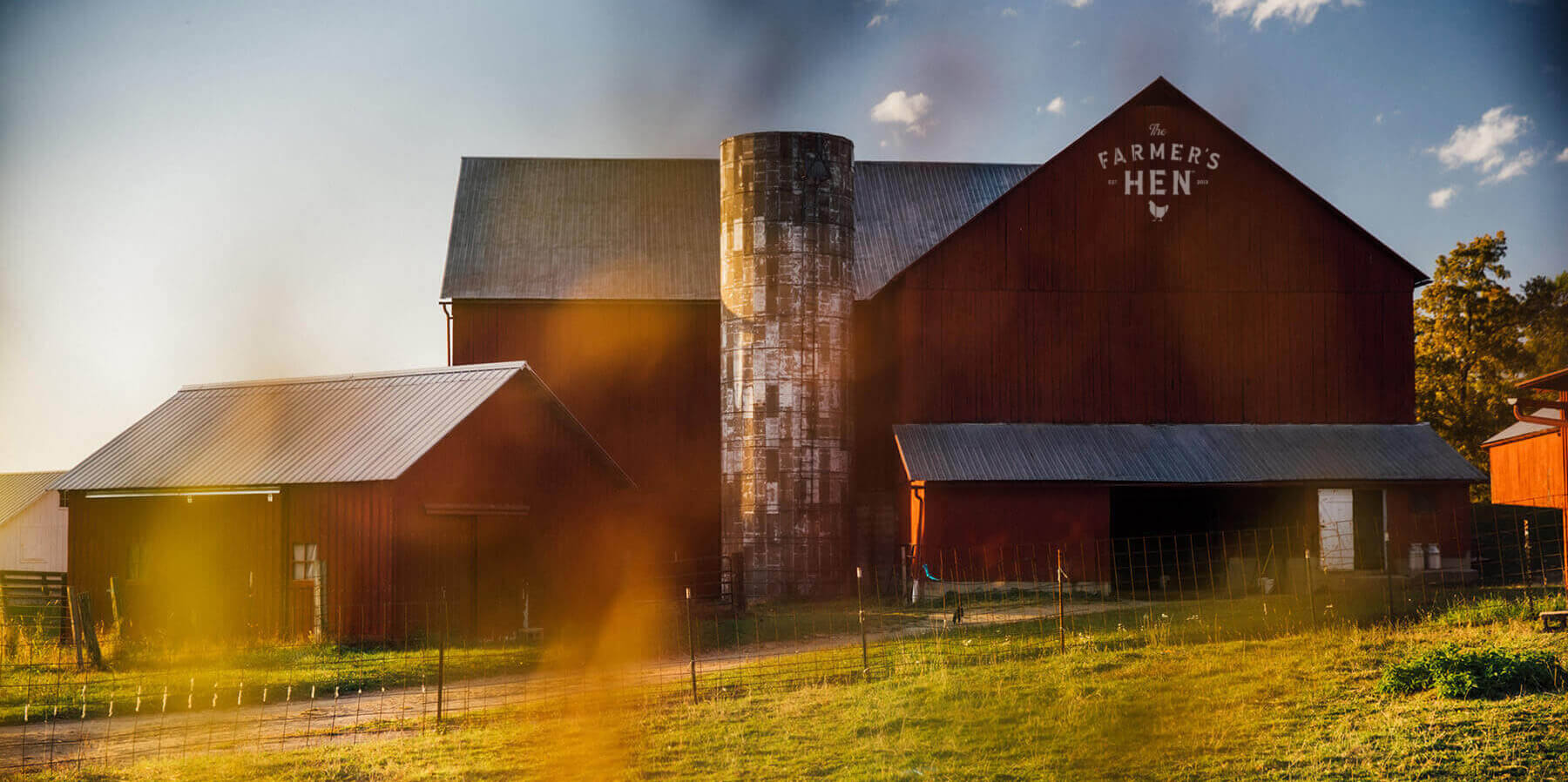 How many small family farms do The Farmer's Hen partner with?
We currently partner with over 50 small, family-owned and operated farms.
Where are your small, family egg farms located?
While our first farm was in Louisville, Ohio, our farms are located throughout the northeast, southeast and midwest.
What does "Family Farms. Family Values" mean?
For us at The Farmer's Hen, family means taking care of each other and enjoying those things that bring us closer together, like great meals around the kitchen table. It means treating our sources of food and the communities we serve with love and respect.
Where can I buy The Farmer's Hen eggs near me?
Check out the store locator on our Find Our Eggs page to find a retailer near you.
Why are The Farmer's Hen eggs more expensive than regular egg brands?
At The Farmer's Hen, we treat our hens to the highest quality feed, and have some of the best farmers in the country caring for them. Our hens also have green outdoor space to roam about it. That all costs more money than factory farming, but we think you'll agree, it's worth it.
If I can't find the Farmer's Hen free-range, pasture raised, or organic eggs at a store near me, what should I do?
Send us a note through the contact page letting us know what store you shop at and also tell the retailer that you'd like to have them carry The Farmer's Hens eggs.
Are The Farmer's Hen's paper and plastic cartons recyclable?
Our plan is to use only 100% recycled paper for our dozens cartons by the end of 2021. Until then, all of our plastic packaging is made of recycled PET and is 100% recyclable.